Using Audio-Based Lip Sync and syncing outgoing audio and video streams
In Animaze, the image processing path and audio processing path can have different durations because the complexity of operations done on the audio data is different than the complexity of operations done on the video data. For the audio output and video to be put back in perfect sync, you may want to add just a bit of audio delay to your outgoing audio stream (instead of just sending it from your microphone directly to OBS or to your streaming software of choice). This is particularly important when using audio-based lip motion or audio-based lip sync.
More about audio-based lip sync is available here.
With respect to the above article, one of the ways to add audio delay to your outgoing Audio stream is routing the voice through Animaze via installing Animaze Virtual Microphone.
To install it follow the steps described here.
After installing the Animaze Virtual Microphone, Windows will auto-set it as the default Microphone for all your apps. Here is how to revert that setting.
After going through the above, you are ready to use the Audio Delay Slider in Animaze
Open Animaze, Go to Settings (cogwheel icon in the bottom left), Audio tab, there you have the Sound delay in seconds slider.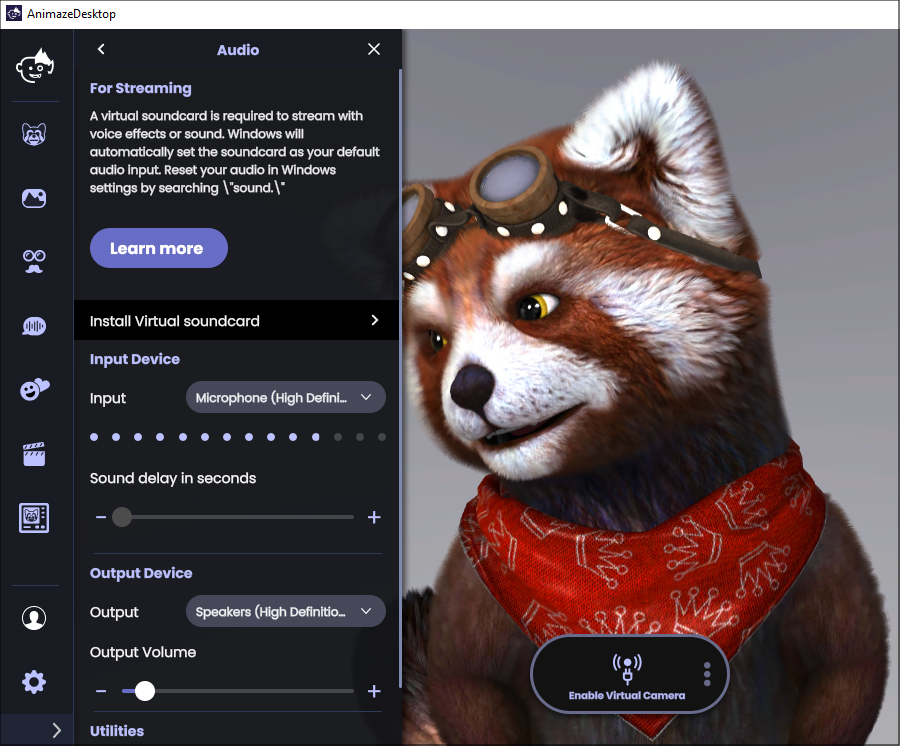 After setting that to an appropriate value (likely ~0.15 seconds or similar) make sure that OBS (or the streaming software suite you use), sources your voice from the Animaze Virtual Microphone Driver, and not directly from your real microphone.